Returned Peace Corps Volunteer
Stephen R. Scafati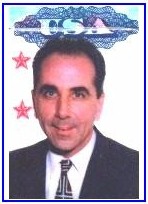 In February of 1997, "Steve" Scafati, arrived in Nepal. He worked in Youth Development while serving as a Peace Corps Volunteer. In this editorial Steve would like to state his sincere appreciation for the good efforts being put forth by all PCV's who are currently working in Nepal in Youth Development. He also wishes a "Happy Dipawali and Merry Christmas" to all in Nepal. This editorial webpage is a podium available to all Y.D.P. Volunteers and affiliates working in Nepal. We are looking foward to featuring editorials from personalities, perhaps on a monthly basis. A good quality passport size photo along with one page of text should be submitted.
The Y.D.P/Nepal project is ongoing and progressive. Peace Corps Volunteers are working with both city and rural based youth who are financially and educationally disadvantaged. PCV's are helping to run community based programs, teaching, organizing sports, encouraging girls to take a more active role in decision making and leadership. There are many different activities, currently being implemented by PCV's, that are designed to assist young Nepali boys and girls in improving their Life Situations.
The staff at Y.D.P. NewsLine invites all Peace Corps YDP/Nepal affiliates to contribute to this webpage, we need your help, without your support there is little advantage. So, please send your comments and submissions to this webpage administrator or to Y.D.P NewsLine Editors Doug Cermak and Annie Wallace.
Also please try to access this website whenever possible, and of course youth who are participating in YDP programs are encouraged to make submissions to this webpage.
This Editorial was written and published on November 21, 1999.